At Kansas Joint & Spine Specialists, we are dedicated to providing you with exceptional joint care. As a part of this dedication, our fellowship-trained arthroplasty and adult reconstruction surgeon, Mohamed Mahomed, M.D., proudly offers total knee replacement utilizing ROSA Knee robotic technology so that you can get the expert care you need to make today yours.
What Is ROSA Knee?
ROSA Knee is a robotic surgical assistant that was designed to help joint replacement surgeons perform total knee replacement with greater precision and a higher standard of care. It uses a camera as well as optical trackers that are attached to the patient's leg to know the exact position of the knee during surgery. This not only helps surgeons accurately carry out their surgical plans, but it also helps them place the artificial joint with greater precision.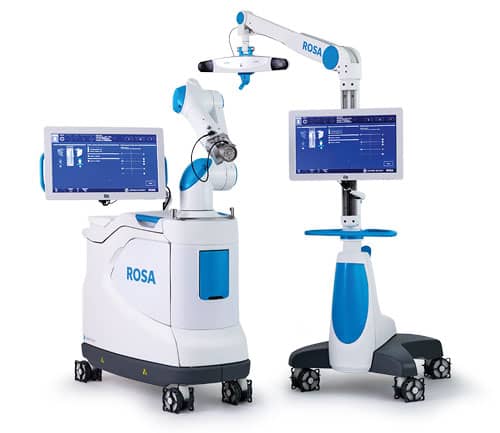 Is ROSA Knee Right for You?
While the ROSA Knee System can provide patients with a variety of benefits, it is typically recommended for patients meeting specific criteria as well as patients who:
Are experiencing severe knee pain
Are no longer experiencing pain relief with nonsurgical treatment options
Have arthritis, osteoarthritis, or cartilage damage
Have trouble completing everyday tasks due to joint pain
To determine if ROSA Knee robotic-assisted total knee replacement is right for you, our joint replacement expert will perform a thorough evaluation. He will also ask you questions about the knee pain you are experiencing and how it is affecting your life.
What to Expect With ROSA Knee
Before Surgery
Once you have been determined to be a good candidate for ROSA Knee robotic-assisted total knee replacement, our joint replacement expert will fully explain the procedure and go over the recovery process. He will also make sure to answer any questions you may have.
Additionally, our surgeon may order a series of X-rays during the preoperative phase to create a 3D model of your knee. This will allow our surgeon to develop a personalized surgical plan for you prior to your surgery.
During Surgery
On the day of your surgery, you will be taken to an operating room. Here, our surgeon will perform your total knee replacement using the ROSA Knee System. With the help of ROSA Knee, our surgeon will remove the damaged bone, accurately place your artificial joint, and assess the state of your soft tissues. Once your total knee replacement has been completed, our surgeon will finish the procedure by closing your incision.
After Surgery
Following your total knee replacement procedure, you will start a recovery plan that our surgeon has designed specifically for you. You will also be provided with guidelines to follow during your recovery period.
It is important to remember that recovery times can vary from patient to patient, as each patient is unique. However, most patients are typically able to start driving after 2 weeks, do light activities after 3 – 4 weeks, and return to some recreational activities after 6 – 8 weeks. As your recovery progresses, our doctor will let you know which activities you can start participating in again.
To learn more about ROSA Knee or to schedule an appointment with Dr. Mahomed to see if this procedure is right for you, please call (316) 219-8299 or request an appointment online.